Great Value Workwear : Fast Professional Service
Castle Printwear offers a vast range of premium quality printing and embroidery solutions to customers across the UK, and beyond. Contemporary uniforms, workwear, sports kit, corporate wear, Stag, Hen, party, events and promotional clothing, are available personalised with your printed or embroidered logos & images.
All of our printing & Embroidery is done in house at our premises in Neyland. We can offer an in house design service. As we do all of the garment decoration ourselves (we don't outsource to trade printers our embroiderers), we can guarantee consistent quality, along with a speedy service

.
We are able to offer same day service, if you have a special occasion, or want a name and number on the back of a football top, bring it in and we can print it same day for you.
Whatever your customised clothing needs, we offer a cost effective solution. Our customers include schools, charities, sports teams, clubs, societies, universities, small and large companies and Key Workers, providing workwear and uniforms incorporating embroidered or printed logos as required.
Castle Printwear Categories
No Minimum Order: Fast Turnaround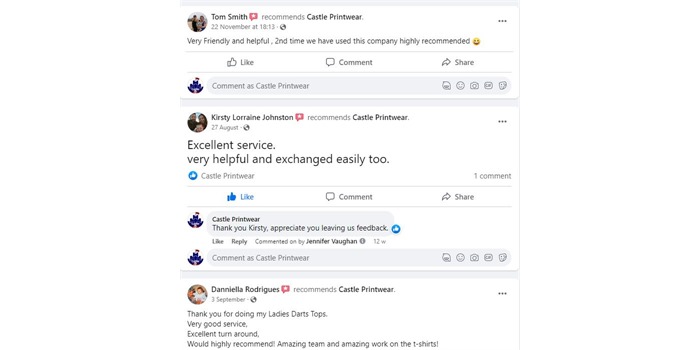 We pride ourselves on providing high quality service levels to all our customers. Castle Printwear offers the unparalleled customer service for all our customers. Whether you are a parent buying your school uniform or a large multi-national procuring workwear our standards never drop.
At Castle Printwear we pride ourselves on the following:
Quality: We only stock quality products for printed & embroidered clothing.
No Minimum Order: From 1 item to however many you may need we have a cost effective solution for all sizes of customised clothing orders (and don't add a surcharge for 'small' orders!).
Fast Turnaround: Because we do all of our own printing and embroidery ourselves, at our own premises, we can turn orders around very quickly-same day if necessary!
Value Pricing: Every customer is individual & has different needs, therefore every job will be priced to matched their specific needs. Set up charges are low, or may even be free.​
For more information or any enquiries do not hesitate to get in touch with us, you can reach us on hello@castleprintwear.co.uk or 01646 450880